Welcome To Nilfire
Nilfire offers a range of glazed windows and doors to meet various Fire Resistant Levels (FRL). All of our products are fully certified to the Australian Standard AS1530 part 4 and/or AS1530 part 8.2.

Nilfire's glazing systems are especially designed for the containment of fire, smoke and heat. Our systems can significantly reduce the cost of damage and the threat to life in the event of a fire.

These passive fire protection systems are designed to provide fire separation for all applications.

Features;


Manufactured with resilient steel frames.
A range of integrity only systems and integrity and insulation systems.
A choice of fixed and operable glazing including; sliding doors, hinged doors, sliding windows, awning windows, casement windows, fixed glazing.
Internal and External Applications, including; boundary lines, residential dwellings, fire escapes, fire stairs, smoke lobbies, computer rooms, car parks, commercial and public buildings, paths of egress, bushfire prone areas (BAL FZ).
View our product range now for more information, request a quote online or contact us to discuss your options.
Latest News
By popular demand, Nilfire's research and development program has finalised designs and successfully tested a sliding door and window systems. The sliding door and window systems comply with the Australian Standard 1530 Part 8.2, and weather resistance test standard Australian Standard 2047. They are now available for domestic and commercial use.

In order to meet the tremendous demand for products in the extreme conditions presented by bushfires following the tragic bushfires in Victoria in 2009, the Victorian Building Commission offered a number of Grants for the development of glazing systems to meet the requirements of AS 1530 Part 8.2 (BAL FZ – Flame Zone). Nilfire was 1 of only 2 companies to be awarded this grant. As a result, we have accelerated our research and development program to develop and test these products and systems.

As a result of our ongoing research and development program, Nilfire has designed and tested awing and casement windows to meet the fire test requirements of Australian standard AS 1530 Part 8.2 (BAL FZ) and weather resistance test standard Australian standard AS 2047.

Testimonials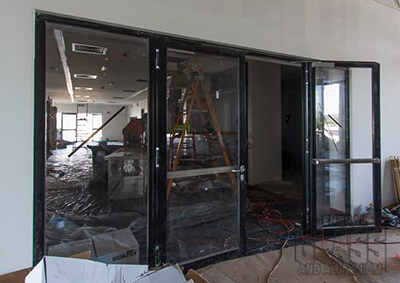 "As part of our contracted works at the Gold Coast Turf Club we were required to provide fire doors (ouch!! I know you feel my pain) well we discovered a bit of a hidden treasure in the form of a company called http://www.nilfire.com.au/ – who produced these doors offering us a 40% saving on those that we could source in Brisbane.
So if you are in need of fire doors and windows – we would recommend you give them a call 02 9986 0844 – in this tough market, saving a dollar or two has never been so important"
– Central Glass and Aluminium